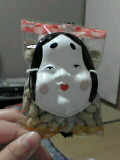 Since I got the beans from Junko sensei as gift anyways... might as well eat them...
so here it is.. the Fuku beans
I don't really like, mostly because they don't have much taste actually, but they're kinda like what you would call, a healthy snack. So oh well.
I count, and count... oops lost count... drop some beans...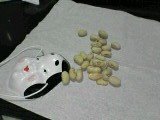 Okay, now I've got them...
Man, I got 25 of them to eat... well, maybe I can put on that little fuku mask and eat the beans... kinda have a little carnival feeling going on here. :p yeah right...
Oh by the way, I'm feeling alot better right now. Other than some stuffy nose and sneezing, I'm quite well. Except that I still don't have much strength most of the time.
And... today during lunch break, I came home and found THIS in my mailbox!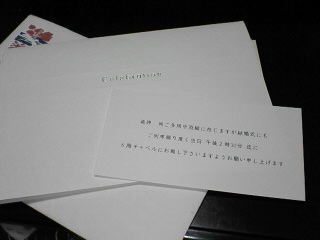 It's Yuki's wedding invitation, and I'm invited to sit in her ceremony too!! heh heh!! kinda funny that I don't know her finace though... Last time with Shinmiya-san's wedding, I didn't quite know him either, so it's kinda just like attending a party. But this is different, this is Yuki's wedding, one of my good friends. Hmm... well we'll talk about it when she comes to Kagoshima with Noriko.